Dr Pamela Lee (李珮華)
MBBS (HK), MD (HK), FHKCPaed, FHKAM (Paediatrics)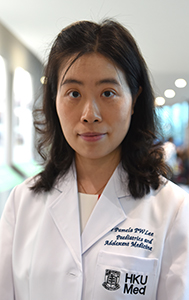 Assistant Dean (Clinical Curriculum) Programme Director (Pedagogy and Training), Bau Institute of Medical and Health Sciences Education Clinical Associate Professor Department of Paediatrics and Adolescent Medicine, School of Clinical Medicine, The University of Hong Kong

Honorary Consultant
Department of Paediatrics and Adolescent Medicine, Queen Mary Hospital

Department of Paediatrics and Adolescent Medicine, Hong Kong Children's Hospital

Department of Pediatrics, The University of Hong Kong – Shenzhen Hospital
Specialty
Paediatric Immunology and Haematopoietic Stem Cell Transplantation
Contact

Email:

Tel:

Fax:
Office:


ppwlee@hku.hk
(852) 22554482
(852) 28554089
Department of Paediatrics & Adolescent Medicine
Room 119, 1/F, New Clinical Building
102 Pokfulam Road, Queen Mary Hospital, Hong Kong

ORCid
https://orcid.org/0000-0002-4780-0289
HKU Scholars Hub
http://hub.hku.hk/cris/rp/rp00462
Scopus
https://www.scopus.com/authid/detail.uri?authorId=14048822200
Total citations: 2,137 (Google Scholar)
H-index: 21
Clinical Expertise
Field of Research
Inflammasome biology and immunoregulatory mechanisms of type I interferon signaling
Primary immunodeficiencies and immunodysregulatory disorders – Gene discoveries and mechanisms of disease
Teaching & Learning
Curriculum development and pedagogical innovations
Representative publications
Lee PP, Lobato-Márquez D, Pramanik N, Sirianni A, Daza-Cajigal V, Rivers E, Cavazza A, Bouma G, Moulding D, Hultenby K, Westerberg LS, Hollinshead M, Lau YL, Burns SO, Mostowy S, Bajaj-Elliott M, Thrasher AJ. Wiskott-Aldrich syndrome protein regulates autophagy and inflammasome activity in innate immune cells. Nat Commun. 2017 Nov 17;8(1):1576. doi: 10.1038/s41467-017-01676-0.
Kui L, Chan GC, Lee PP. TSG-6 Downregulates IFN-Alpha and TNF-Alpha Expression by Suppressing IRF7 Phosphorylation in Human Plasmacytoid Dendritic Cells. Mediators Inflamm. 2017;2017:7462945. doi: 10.1155/2017/7462945.
Lee PP, Mao H, Yang W, Chan KW, Ho MH, Lee TL, Chan JF, Woo PC, Tu W, Lau YL. Penicillium marneffei infection and impaired IFN-γ immunity in humans with autosomal-dominant gain-of-phosphorylation STAT1 mutations. J Allergy Clin Immunol. 2014 Mar;133(3):894-6.e5. doi: 10.1016/j.jaci.2013.08.051.
Lee PP, Lau YL. Cellular and Molecular Defects Underlying Invasive Fungal Infections-Revelations from Endemic Mycoses. Front Immunol. 2017 Jun 28;8:735. doi: 10.3389/fimmu.2017.00735. eCollection 2017.
Lee PP, Chan KW, Lee TL et al. Penicilliosis in children without HIV infection--are they immunodeficient?   Clin Infect Dis. 2012 Jan 15;54(2):e8-e19. doi: 10.1093/cid/cir754.
Luk ADW, Lee PP, Mao H, Chan KW, Chen XY, Chen TX, He JX, Kechout N, Suri D, Tao YB, Xu YB, Jiang LP, Liew WK, Jirapongsananuruk O, Daengsuwan T, Gupta A, Singh S, Rawat A, Abdul Latiff AH, Lee ACW, Shek LP, Nguyen TVA, Chin TJ, Chien YH, Latiff ZA, Le TMH, Le NNQ, Lee BW, Li Q, Raj D, Barbouche MR, Thong MK, Ang MCD, Wang XC, Xu CG, Yu HG, Yu HH, Lee TL, Yau FYS, Wong WH, Tu W, Yang W, Chong PCY, Ho MHK, Lau YL. Family History of Early Infant Death Correlates with Earlier Age at Diagnosis But Not Shorter Time to Diagnosis for Severe Combined Immunodeficiency. Front Immunol. 2017 Jul 12;8:808. doi: 10.3389/fimmu.2017.00808.
Hassan A, Lee P, Maggina P, Xu JH, Moreira D, Slatter M, Nademi Z, Worth A, Adams S, Jones A, Cale C, Allwood Z, Rao K, Chiesa R, Amrolia P, Gaspar H, Davies EG, Veys P, Gennery A, Qasim W. Absence of host natural killer cells and engraftment permissiveness after non-conditioned allogeneic haematopoietic stem cell transplantation for severe combined immunodeficiency. J Allergy Clin Immunol. 2014 Jun;133(6):1660-6. doi: 10.1016/j.jaci.2014.02.042.
Lee PP, Lau YL. Improving care, education, and research: the Asian primary immunodeficiency network.   Ann N Y Acad Sci. 2011 Nov;1238:33-41. doi: 10.1111/j.1749-6632.2011.06225.x.
Book Chapters
Lee PP, Lau YL. Endemic infections in chronic granulomatous disease. In: Seger R, Roos D, Segal B Kuijpers T (Eds.), Chronic Granulomatous Disease - Genetics, Biology and Clinical Management. First Edition, 2018. Chapter 5, p. 125-162. NOVA Publishers, New York, N.Y., USA.
Lee PP, Lau YL. Immunodeficiency and RheumaticDiseases. In: Sawhney S and Aggarwal A (Eds.), Pediatric Rheumatology –A Clinical Viewpoint, Chapter 48. Singapore: Springer, 2017. 
Lee PP, Lau YL. Considerations for Primary Immune Deficiency Disorders in Asia. In:Sullivan, KE and Stiehm, ER (Eds.), Stiehm's Immune Deficiencies, p. 965-976. London: Academic Press, 2014.
Lee PP, Lau YL. Phagocytic disorders. In:Stevenson, DK, Cohen, RS and Sunshine P(Eds.), Neonatology: Clinical Practice and Procedural Atlas, Chapter 50, p.717-732. New York: McGraw Hill, 2013.
Lee PP, Lau YL. Thymic aplasia and T-celldisorders. In: Stevenson, DK, Cohen, RS and Sunshine P(Eds.), Neonatology: Clinical Practice and Procedural Atlas, Chapter 50, p.733-750. New York: McGraw Hill, 2013.
Lee PP, Gaspar HB.Immunology. In:BeattieRM, ChampionMP (Eds.),Essential Revision Notes in Paediatrics forthe MRCPCH, Third Edition, Chapter 14, p.373 –406. United Kingdom: PasTest, 2012.
Research Postgraduate Supervision
LEE Wing Yan (M.Phil., 2007). Association of cytokine gene polymorphisms with susceptibility and disease progression in chronic hepatitis B virus infection
PEI Lim Cho Steven (PhD, 2016). Possible role(s) of interferon regulation on inflammasome activity via STAT1 and autophagy.
KUI Lin (PhD, 2018). The effect of tumor necrosis factor-inducible gene 6 (TSG-6) and hTERT mesenchymal stem cells (htMSC) derived extracellular vesicles on TRL9 and TLR7 stimulated plasmacytoid dendritic cells and their therapeutic potential in systemic lupus erythematosus.
MA Haiyan (PhD, 2019). NLRP3 inflammasome contributes to host defense against Talaromyces marneffei infection.
Knowledge Exchange
Improving Care, Education and Research: The Asian Primary Immunodeficiency Network
The Asian Primary Immunodeficiency (APID) Network is a collaborative research network committed to advancing basic science and clinical practice of primary immunodeficiencies (PID). Based in UPAM, the APID Network provided genetic confirmation of PID for nearly 900 patients in Asia, thereby increasing the visibility of these rare disorders and calls for attention to service needs and priorities. Characterization of disease patterns, unique phenotypes, genetic etiologies and disease mechanisms that are not previously described in Asia enable clinicians to recognize PID in their locality and accelerate service provisions that are necessary for precision in treatment and improved patient outcomes. Knowledge generated from the network is disseminated via physician education activities organized by the Asian Pacific Society of Primary Immunodeficiencies (APSID), which we founded in 2016. Our stakeholder engagement activities raise PID awareness and policy support for our patients. HKU's leadership in PID is recognized internationally.
Dr Lee is the Chair of the Genetics and Genomics Working Party of APSID, and a member of the Executive Board. She has played a key role in the design and implementation of the APSID Schools Designed for young doctors in training, the APSID Schools adopt intensive learner engagement through self-directed learning, active participation and feedback. Up to the end of 2018, 7 APSID Schools have been conducted with 312 presentations given by trainees from 15 Asian countries and regions. She is a member of the Organizing Committee of the First International Alliance of Primary Immunodeficiency Societies (IAPIDS) Advanced Summer School 2020.
Professional engagement – From APID Network to Asia Pacific Society for Immunodeficiencies (APSID)
Lee PP, Lau YL. Improving care, education, and research: the Asian primary immunodeficiency network.   Ann N Y Acad Sci. 2011 Nov;1238:33-41.
https://nyaspubs.onlinelibrary.wiley.com/doi/abs/10.1111/j.1749-6632.2011.06225.x
Professional KE – APSID Schools
http://paed.hku.hk/apsid/APSID2016/report/report.pdf
Patient Empowerment and Public Engagement – PID League
http://paed.hku.hk/apsid/pidl/home.htmlhttps://www.facebook.com/Primary-Immunodeficiency-League%E5%8B%89%E9%80%86%E6%AD%B7-623031057781922/
Viva-Asia Blood and Marrow Transplant (VABMT) Consortium
Dr Lee is currently the Vice Chair of the VABMT Consortium. She set up the VABMT Education Initiative in 2017 when she took up the role as the Chair of the Education Subcommittee. The mission is to bring together international and regional experts to educate physicians on the best practice and standard of care in pediatric HSCT. Recognizing the diversity of needs and priorities of HSCT-related issues in various Asian countries, the Consortium strives to enable knowledge exchange (KE) activities from basic to highly specialized, cutting edge HSCT approach and cellular therapy, through an education platform that facilitates collaborative learning. We believe that, by efforts in education and training, every patient undergoing HSCT can benefit from the prevailing best clinical practice, based on safe, evidence-based, effective and innovative medicine. We aim to empower emerging programs to set up and expand their HSCT service with support from centers of excellence, and at the same time, to drive innovations and nurture the next generation of leaders in pediatric HSCT. Our vision is that HSCT will be accessible to each and every child who requires this life-saving procedure and be cured of his / her disease to live a life to its full potential, regardless of nationality and residence.
Awards
| | |
| --- | --- |
| Research | |
| - Best Young Investigator Prize | Hong Kong College of Paediatricians, 2018 |
| - Best Research Award | 11th Congress of Asian Society for Pediatric Research, 15-18/4/2015, Japan |
| - Young Investigator Award | 6th Congress of Asian Society for Pediatric Research, 15-18/4/2008, Taiwan. |
| - Young Investigator Award | Pediatric Academic Societies and Asian Society for Pediatric Research 2008 Joint Meeting, May 3-6 2008, USA |
| - Young Investigator Award | 2nd Congress of Asian Society for Pediatric Research, Dec 2006, Japan. |
| | |
| Education | |
| - Best Paper Award | 2019 World Federation for Medical Education (WFME) World Conference |
| - Award of Merit | Frontiers in Medical and Health Sciences Education 2018 |
| - Audience Award | Frontiers in Medical and Health Sciences Education 2018 |
| - First Runner-up | 7th Asia Pacific Medical Education Conference (APMEC), Singapore, 2010. |
| - Faculty Teaching Medal | LKS Faculty of Medicine, 2009. |
| | |
| | |
| | |
| | |
| | |
| | |
| | |